ADVANTICSYS releases New Wireless Indoor Air Quality Sensor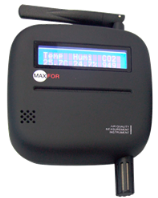 ADVANTICSYS releases New Wireless Indoor Air Quality Sensor
June 23, 2014
ADVANTICSYS introduces a new IEEE 802.15.4 wireless sensor compatible with DM-124 wireless Modbus networks. The new product, called IAQM-THCO2 is capable of measuring air temperature, relative humidity and CO2 levels.

The IAQM-THCO2 is auto configurable inside the radio network, it determines the best route to send data packets, and it effectively distributes the packets to all nearby radio neighbours and answers Modbus RTU requests.

The IAQM-THCO2 is fully Modbus RTU compatible, which means that any PLC, controller or PC connected to the DM-124 coordinator can retrieve data by using standard Modbus RTU commands.

The DM-124 Config Tool software eases the process of configuring the device via radio. The User's Manual and the latest version of the software are available on our wiki.



About ADVANTICSYS
The company, founded in 2009 by a group of engineers with over ten years of experience in the industry, currently has 16 employees and sells its solutions in 35 countries in Europe, Asia, Africa and America. It has started its international expansion with a subsidiary in Chile.

ADVANTICSYS provides remote monitoring systems based on wireless sensor networks and industrial monitoring equipment with applications in areas such as processes control in industry or environmental monitoring.