New 3G (UMTS/HSPA+) Modbus Controllers series released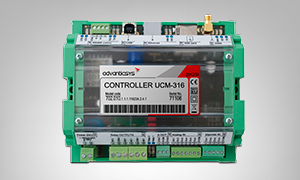 New 3G (UMTS/HSPA+) Modbus Controllers series released
January 13, 2017
ADVANTICSYS has recently released a new series of UCM-316 Modbus controllers supporting 3G (UMTS/HSPA+) communication worldwide..

Moreover, the brand new devices include a microSD card holder enabling an internal file system which stores data collected and can be accessed from any FTP client software such as Filezilla. Thus, the new UCM-316 can behave both as FTP client (sending csv files periodically to a remote server) and FTP server (accepting connections and data download from remote FTP clients).

With these two new features, UCM-316 becomes a powerful but cost-affordable solution for monitoring and control applications. Its overall capabilities include:
Datalogger with records timestamp (RTC, Real Time Clock) synchronized through NTP protocol
RS232, RS485, USB, Ethernet, 3G(UMTS/HSPA+) communication
Up to 6 analog inputs (current, voltage, resistance or temp. probe)
Up to 4 digital inputs (contact, impulse counter, alarm)
Controller with up to 2 relay outputs (230Vac, 3A)
Automatic weekly scheduler for relay outputs
Dimmer with up to 2 analog outputs (0-10V)
FTP client able to send periodic data in csv file format
FTP server capability, being able to store data in external uSD card
Remote configuration and updates through 3G (UMTS/HSPA+)
Protocols supported: M-Bus,Modbus RTU, Modbus TCP/IP
About ADVANTICSYS
The company, founded in 2009 by a group of engineers with over ten years of experience in the industry, currently has 16 employees and sells its solutions in 40 countries in Europe, Asia, Africa and America. ADVANTICSYS provides remote monitoring and control systems based on wireless sensor networks and industrial monitoring equipment with applications in areas such as processes control in industry or environmental monitoring.